Termite Inspections, Termite Treatments, and Construction Repair Work
We don't just find and kill termites, we can repair the damage they've done.
Did you know termite damage isn't covered by homeowner's insurance policies?
That's right, not covered. And Termite colonies never stop eating unless they're treated.
Termites chew through wood, flooring, and drywall 24 hours a day, 7 days a week.
In just 6 short months termites can cause MAJOR damage to your home.
Not sure if your home has termites? Call us today for your termite inspection.
Why choose CSI Exterminators for your termite inspections and treatments? Because our termite work is guaranteed…
We do our job right the first time. You won't need to pay for ongoing "protection plans" like our competitors require.
If we've completed a termite inspection and treated your home for a termite infestation, our work is guaranteed for two years following the treatment.
If for some reason an infestation re-occurs, we will re-treat your home at no additional charge.*
Ask us about our termite treatments and why we have such a high success rate.
We don't just find and kill termites, we can repair the damage they've done.
Your structure has been successfully treated for termites and the problem has been eradicated, but now what do you do? There is still structural damage that needs to be fixed…
If you've chosen to work with CSI Exterminators, Inc. for your termite problems, you can rest easy!
We are fully capable of handling the structural repair work required to bring your home or building back up to certification standards.
* Some restrictions apply, ask for details.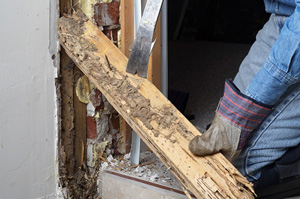 Don't wait until your house is falling down around you...
Contact us today and schedule your FREE termite inspection.
*Fees may apply for homes in escrow.