Affordable Fresno Pest Control Service for Your Home
We provide year-round pest control services that are custom tailored to suit your needs. We'll kill your ants, spiders, cockroaches, and more!
Fresno Pest Control Service – When You've Got a Pest, Call the Best!
Do you have problems with ants, spiders, cockroaches, fleas, or other common pests?
We have yet to encounter a pest problem we couldn't address! Call (559) 294-1779 to schedule your FREE pest inspection.
Your Fresno CSI Exterminators team has over 50+ years of pest control experience. We even have an on-staff Associate Certified Entomologist. Look no further for comprehensive pest control services!
We help Fresno and Clovis homeowners get rid of ants, spiders, cockroaches, earwigs, fleas, ticks and other common pests found throughout California.
Our Pest Control Service Plans
No matter the plan, you won't have to sign a service contract.
We want you to be our customer because you're happy with our service, not because you're stuck with us. We're proud of the fact that we have a VERY low customer turnover rate.
After your FREE pest inspection, your technician will ask you to sign a service agreement. The service agreement is simple and outlines the pests that will be covered, the price you will be charged, and how often we recommend your home be serviced.
A majority of our residential pest control customers in Fresno choose our bi-monthly (every other month) service plan.
The materials we use for controlling common pests are designed to be effective for approximately 60 days.
We do have monthly, quarterly, and one-time services available, but we've found the bi-monthly service to be the best fit for most of our customers.
What Happens if You See a Pest Before Your Scheduled Visit
Occasionally a persistent insect makes an appearance between the scheduled service dates. If this occurs, just give our office a call and let us know. We would be glad to come out between services and take care of the issue at no additional charge.
You do not have to wait for your next scheduled service date to roll around – we're dedicated to keeping your home bug-free year round.
Here's What is Included with Our General Pest Control Service Plans…
Our residential pest control service includes treatment of both the interior and exterior of your home, plus the removal of spider webs from your roof line and fence line.
The exterior of your home will be treated each and every time we come to perform your maintenance service.
The interior of your home will need to be treated less frequently, if it needs to be treated at all. Our goal is to create a barrier that will keep pests out of your home.
If the interior of your home does need to be treated, give our office a call (559) 294-1779 and we'll be happy to schedule a time when you're home to give the technician inside access. Interior treatments may require specific preparatory steps to be taken by the home owner, prior to our arrival.
Is pest control safe for your family and pets?
CSI Exterminators always operates with the safety of your family, your pets, and the environment in mind.
We conduct a thorough inspection of your property to determine the most effective, least invasive methods and treatments to eliminate pests from your property.
We use only EPA registered materials. We also use trapping and exclusion (physical blocking of entry points) whenever possible. Our chemical treatments are low-odor and well-suited for sensitive customers.
Do you prefer an all-natural pest control solution? No problem!
We have all natural treatment options available. We also follow proven methods for Integrated Pest Management (IPM). IPM is an ecosystem-based control strategy that focuses on long-term pest prevention. IPM also addresses pest-related damage through a combination of techniques like biological control and habitat modification.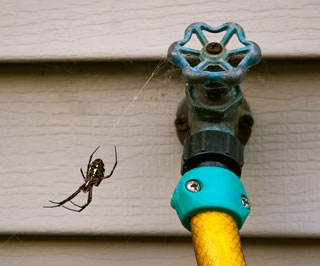 We're so confident you'll be happy with our general pest control services we won't require you to sign a service contract.
We want you to be our customer because you choose to be, not because you're stuck in a contract you can't get out of.