Refer-A-Friend to CSI Exterminators, Inc.
We are Central California's premier pest control company.
Thank you for referring your friend or family member.
We will give your referral contact a call and if they become a new customer of ours, we'll send you a CSI gift check good toward the next CSI service of your choice.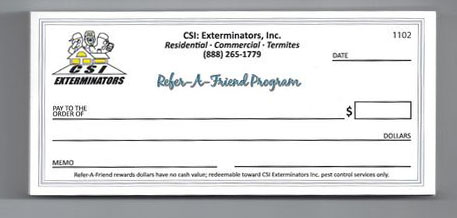 Areas We Serve
We provide commercial and residential pest control services for businesses and homeowners in Fresno, Clovis, Visalia, Bakersfield, Madera, Merced, and throughout the entire state of California.
Phone: (559) 294-1779
Toll-Free: (888) 265-1779
Fax: (888) 265-3708
Business Hours:
8:00am – 5:00pm Mon-Thurs
8:00am – 4:00pm Friday
Mailing Address:
P.O. Box 8220
Fresno, CA 93747
Corporate Office:
5824 E. Princeton Ave.
Fresno, CA 93727