Integrated Pest Management (IPM) Services for Food & Beverage Processing Facilities
We have the specialized experience and certifications necessary for you to pass your next third party safety and sanitation audit.
Pest Control for Food & Beverage Processing Plants
A comprehensive Integrated Pest Management program is essential to keeping Food & Beverage Processing facilities in compliance with the safety and sanitation requirements. Effective pest management not only addresses current pest issues, but puts in to practice proactive measures designed to keep pests from becoming an issue.
Our Experience with Integrated Pest Management (IPM) and Food Safety Audits
Jim Slusher, head of CSI Exterminators' Commercial Services division has over 30 years experience in pest management services for Food & Beverage processing facilities. Jim is an expert in his field and has extensive knowledge about pests and their habits in the food and beverage processing environment. All CSI technicians who service commercial food processing facilities undergo ongoing IPM training and are required to obtain certifications by completing AIB Food Safety Essential courses.
The Pest Control Services We Provide for the Food & Beverage Industry
Our technicians work with managers to develop comprehensive sanitation plans and pest exclusion strategies. We are also available for audit support whenever necessary. Additionally, CSI Exterminators is fully capable of providing pest management services for certified organic food processing plants.
You can rest assured you will have the appropriate pest control documentation required by third-party safety auditors.
Our food processing service includes an up-to-date pest activity log book. The log book includes barcode verified service date and trending reports, corrective action reports, pesticide application and usage data, and comprehensive bait station/ trap maps. Facility managers have convenient online access to these reports through our website.
Food & Beverage Safety and Sanitation Audits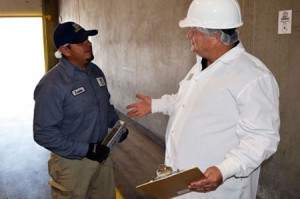 We provide food safety audit support. We'll help keep your facility compliant!
A.I.B. Certified
Primus Labs
F.F.P.A.
ISO 9000
Sillkier Labs
Cook & Thurber
U.S.D.A.
F.D.A.
Health Department
Stop swatting and contact us today and set up your FREE inspection!