Fly Control Systems & Programs for Commercial Settings
Don't let your business be the cause of a major health scare. Flies easily spread disease and contaminate food.
Fly Control Systems: A Requirement for Food-Related Businesses
Flies may be small, but they can cause BIG problems for your business. Not only are they annoying, flies transmit bacterial pathogens that can cause food poisoning and spread diseases like Salmonella, and E. coli.
Fly control is an important part of our Integrated Pest Management (IPM) program. No two facilities are the same, so we custom design fly control solutions to meet your needs.
Dangers of Flies in a Commercial Setting
A fly's body and the hairs covering it collect bacterial and viral pathogens from decomposing organic matter. Each time they land on counter tops, food, and other surfaces, these pathogens are left behind.
Because flies transmit disease easily, it is essential to have fly control measures in place. Click here to request your free fly control evaluation.
Your Customized Fly Control Program
We'll begin the design process with an inspection of your facility. We'll ask questions to find out what your sanitation processes include.
The inspection will help us to identify existing procedures and facility conditions that attract fly populations.
Once your property has been evaluated, your CSI Exterminators technician will begin designing your fly control solution.
Your customized program might include recommendations for changes to:
sanitation processes
exclusion (keeping flies out of the building)
installation of mechanical traps or fly lights
bioremediation treatments
Your fly control program will be regularly monitored for effectiveness. We ensure the fly control measures we put in place are appropriate for your business' evolving needs.
Fly Light Service
Your fly control program may include fly light trapping service.
Our slim profile insect lights use ultraviolet bulbs to attract flies. Once inside the light fixture, flies stick to a non-toxic glue board and are unable to escape. Flies trapped inside are not visible from the outside of the fly light. The glue board traps are replaced on a regular basis by our technicians.
There are a variety of fly light styles available to suit your needs.
Fly lights can range from industrial-looking fixtures with shatter-proof bulbs, to more attractive lights designed to blend in with the interior decor. These lights are great for fly control in restaurants, hotels, dining rooms, hospitals, and other public areas where fly management should be discrete.
Bioremediation and Drain Cleaning Service
If your facility has garbage disposals, tile floors with grout, or floor drains, your fly control program may benefit from our bioremediation service.
We have specialized bioremediation equipment. We use a solution with a special blend of microorganisms that work to break down grease, food particles, and organic matter. Odor control is an added benefit!
Bioremediation and drain cleaning  is a key component to your sanitation program.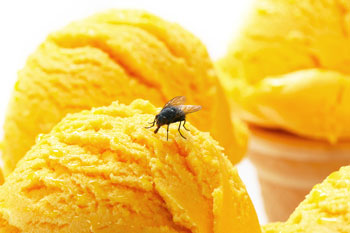 Stop swatting and contact us today and set up your FREE inspection!