About CSI Exterminators, Inc.
We are a Veteran-Owned pest control company based in Fresno. Together, we have more than 50+ years of experience.
CSI Exterminators, Inc. began operations in January of 2008.
Pest control expert Jim Slusher and local contractor and small business owner Dave Henson met each other in a Bible study group in 2007. The two got to know each other and over the course of the next few months began to talk about a "dream" company that would operate based on Christian Biblical principles, with customer service and good customer relationships as key drivers of the company's business philosophy. A short time later, Dave introduced Jim to Ronny Nowell, an expert pest control operator who specialized in termite work and structural repairs. Jim, Ronny, and Dave got along well, discovered they shared many of the same moral and ethical convictions and decided they would open a new pest control company.
The three continued to meet for a few months to create a business model for the new operation; it was important to all three men that a solid foundation be in place prior to beginning any service operations. They did not want the new company to be a "spray jockey" pest control operation like so many are; instead they wanted to create a pest control company that would:
Conduct comprehensive pest inspections to identify and eliminate pest issues (inspection-driven)
Service all types of pest control needs from within the company (no subcontracting work)
Embrace the latest in technological advances for pest control
Focus on excellent customer service and accountability for the services performed
Having worked for major national and regional operations in the past, it was also very important to Jim, Ronny, and Dave that they create a positive workplace environment where employees would look forward to coming to work and would be proud to be a part of an organization with strong values and customer relationships.
After meeting for almost a year, CSI Exterminators, Inc. opened its doors in January of 2008. Over the past seven years, CSI has grown from a 120 square foot office with two outfitted pest control trucks, to a 5,000 square foot space with residential, commercial, and multifamily property accounts throughout the state of California. Currently, CSI is headquartered in Fresno, California, but Jim, Ronny, and Dave have set goals to continue the company's growth, opening branch offices throughout the state.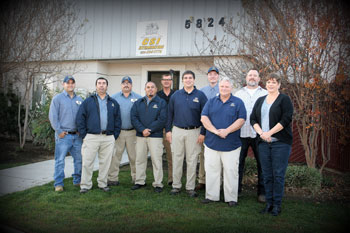 Interested in Working for CSI Exterminators?
Check out our careers page for current job openings.
Our customers love us! See what they have to say about us on Yelp. Already a customer? Please take a moment to review us.